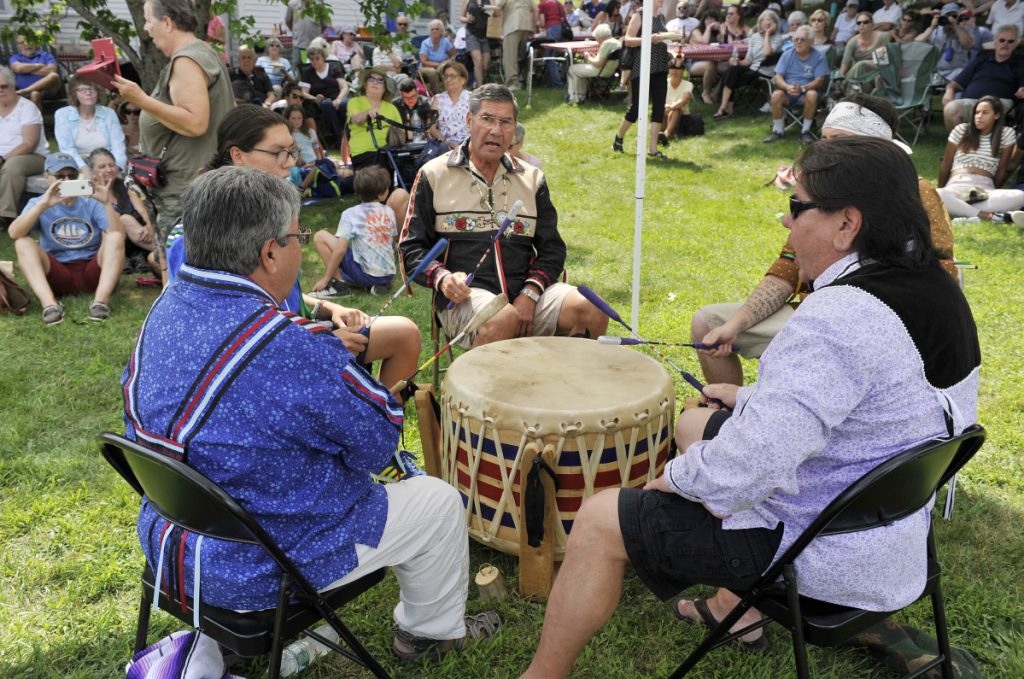 Coastal Mountains Land Trust's Arts on the Hill program brings the Burnurwurbskek Singers to Beech Hill Preserve on Sunday, June 25 at 2:00 p.m. as part of this popular and free summer concert series.
Comprised of men representing many of Maine's Wabanaki people (including the Penobscot, Passamaquoddy, Maliseet and Mic Mac tribes), the members of the Burnurwurbskek Singers have been singing and drumming together for almost 25 years. They perform traditional northeast Native American woodland songs that date back to time immemorial, as well as more contemporary, intertribal songs. These songs have been passed down in their rich oral tradition from generation to generation – from fathers, grandfathers and uncles to brothers, cousins and sons.
Core members of the group are Ron Bear, his two sons Nick Bear and Cree Neptune Bear, and Nyle Sockbeson. The group is also often accompanied by traditional Native American dances, performed by Ron's daughter Selena Neptune Bear and others. The Burnurwurbskek Singers are honored to continue to share their Native American drumming, singing and dances with Indian Country and others.
All performances are free and open to all ages, but please leave your dogs at home.
This season's Arts on the Hill music series is brought to you by our lead sponsors Cold Mountain Builders and Emily & Jonathan McDevitt, and our partner sponsors Bangor Savings Bank, Camden Coast Real Estate, and Maine Coast Orthodontics.