Why do you volunteer?
I have been working on the Waldo County Wednesday morning work crew for close to ten years now. Skip Pendleton encouraged me to come. I met Bob Olfenbuttel on my very first outing to the Penobscot Shore preserve in Prospect. Dan Reeve's first day on the crew was on January 27, 2016. Bob was an old hand by then. We normally clear and mark boundaries and trails. And sometimes we help with special projects. I enjoy the friends I meet with common interests, the sense of accomplishment, and helping provide the community with outdoor access. Bob introduced me to a local hiking group.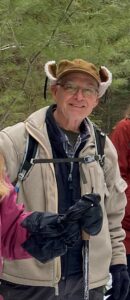 We have had very professional, competent and likeable Land Trust crew leaders over the years. It's nice because they do all the planning and organizing, talking to neighbors, providing maps, tools and supplies, and we just get to show up for the fun work in the woods.
Boundary work is often challenging. The lines are sometimes obscure and a little surveying is in order. The boundary lines are straight and do not follow the contours of the land so you never know if they will go across ponds, swamps, blow downs, mountains or other impediments. We see many old fences, rock walls, mill dams and foundations that tell a story of the history of the land.
I also serve as steward of two large and remote parcels of land that are part of the Ducktrap River preserves. It takes a lot of hiking to reconnoiter the properties and make sure that land is properly managed. Bob and Dan have often accompanied me on these excursions. I have become intimately familiar with these beautiful properties. We discovered a few chestnut trees that were planted many years ago and have survived and have been bearing nuts.
Probably the most challenging project we have attempted was the installation of a 36 foot aluminum bridge over a stream in the McLellan Poor preserve. This was winter project and a joint effort by the southern crew, the snowmobile club and our crew. Dan designed and built sledges that were strapped under the bridge, a snowmobile towed and we all pushed and shoved to move the heavy bridge through the woods and down to the stream. That spring we all showed up again to pull the bridge across the stream and anchor it. If you walk that preserve today you will come across this bridge.
We have had many people come and go over the years. We planted an apple tree orchard in the Main Stream Preserve in memory of Tim Webster, who died of ALS and was the steward of that property.
Wednesday morning work crew is often the highlight of my week.
Submitted by Steve Bird