,
Swanville

444 acres

2.1 mile, one way. Mostly flat, moderate.

Hiking, Snowshoeing, Cross County Skiing
---
Trail Descriptions
SWEEPING WETLAND VIEWS, ROCK DAMS, MATURE FORESTS AND FIRST SUCCESSIONAL FORESTS . Meadow Brook Preserve is a central part of a 2,408-acre undeveloped habitat block. Since 2017, The Hauk-Fry trail was expanded to 2.1 miles and now crosses from Oak Hill Road (parking lot coming fall 2022) to Swan Lake Avenue (roadside parking only) and the Rocky Knolls trail was closed due to beaver activity. The trail traverse (from west to east) through a variety of mature forest, wetland, riparian, and early successional habitats and has very unique views into the wetlands around Hurds Pond.
---
---
---
Look for
Early successional habitat that attracts bird species including chestnut-sided warblers and prairie warblers. Diverse wildflowers and grasses growing along the old logging roads. Small brooks supporting abundant amphibian life.
Directions
From downtown Belfast, take High Street/City Point Road for 2.6 miles. Take a slight right onto Oak Hill Road. In 2.1 miles, the preserve will be on right. Access is available on Swan Lake Avenue across from the Swanville Transfer station. No parking lot at that location, users are encouraged to park at Oak Hill Road.
History
First property donated anonymously in 2011. David Hauk and Patti Fry donated a portion in 2013. Additional parcels purchased in 2014 and 2020, and a last piece (non-contiguous) was donated anonymously in 2020.
Additional Information
#meadowbrookpreserve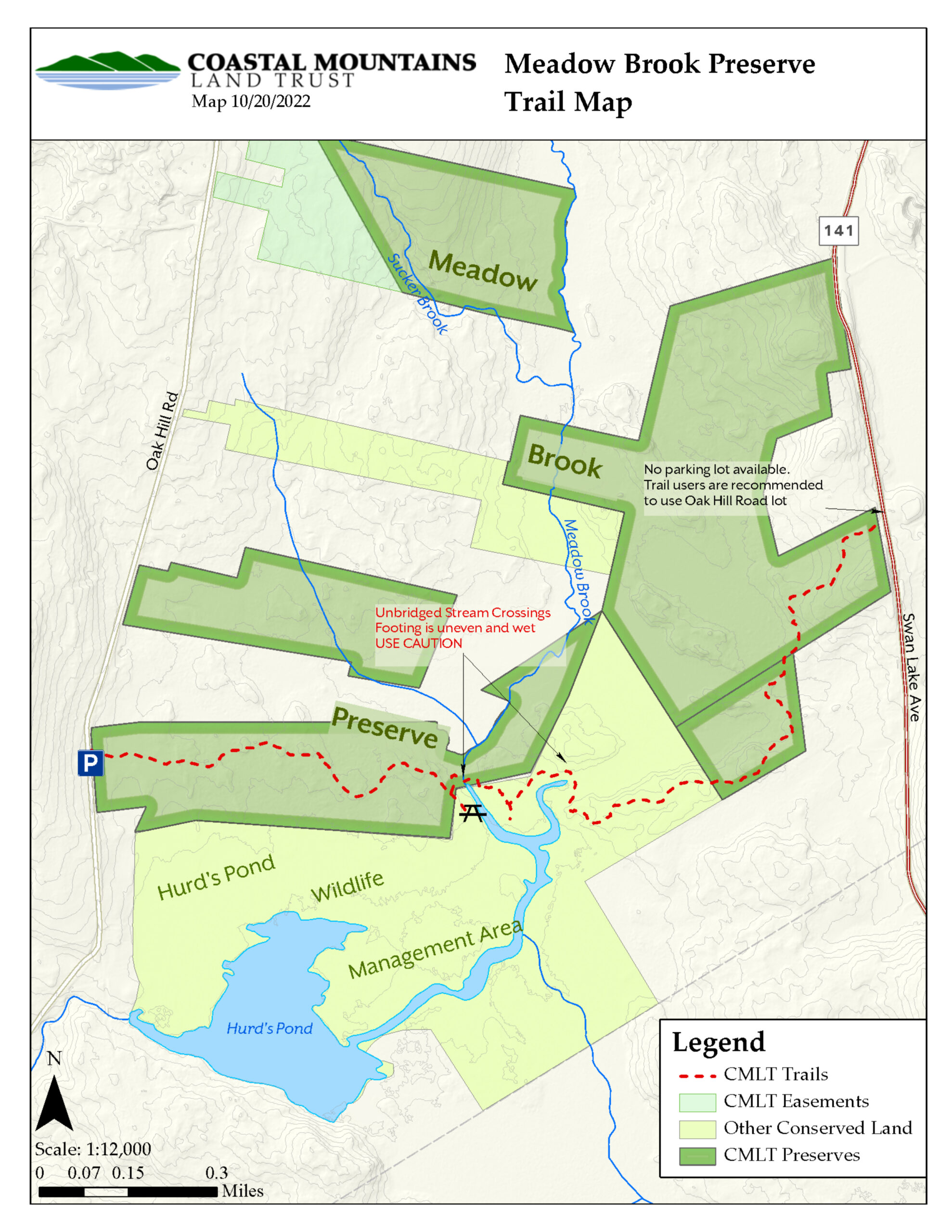 ---