Meadow Road,
Stockton Springs

1.75

Hiking, Birding
---
Trail Descriptions
VIEWS TO THE EAST, MODERATE FOREST WALK. A long and rewarding ramble through a mixed age forest. Start at Meadow Road and walk up a dirt road through forests and meadows 0.7 miles across abutting property to the Preserve. Turn right onto the trail and hike up the rocky dirt trail that climbs continuously, but moderately, over 0.8 miles to the forested summit of Mount Tuck. Continue 0.3 miles to a scenic overlook on the east side of the mountain, with views of Blue Hill, Acadia, and Penobscot Bay.
---
---
---
Look for
Signs of Moose, Bobcat, and Coyote and unique geological formations. In winter, look through the trees to the south for views of Muskrat Pond.
Directions
From Stockton Springs: Turn North on Route 1. In 4.1 mi, turn left onto Meadow Road. Continue 0.6mi and park on the side of Meadow Road, or in the dirt pull-off by the Kiosk. Do NOT block the road, as it is actively used by abutting landowners for forestry and other uses.
History
CMLT acquired the summit parcel on Mount Tuck in 2019. Four other parcels were purchased in the following three years to conserve the whole mountain.
Additional Information
A dirt road (the Blanchard Lane) runs through the western section of the preserve, and abutters make use of it. Preserve users must park on Meadow Road, and walk up this dirt road, to access the preserve. Motorized vehicles, mountain bikes, and horses are prohibited on the Preserve except on this road.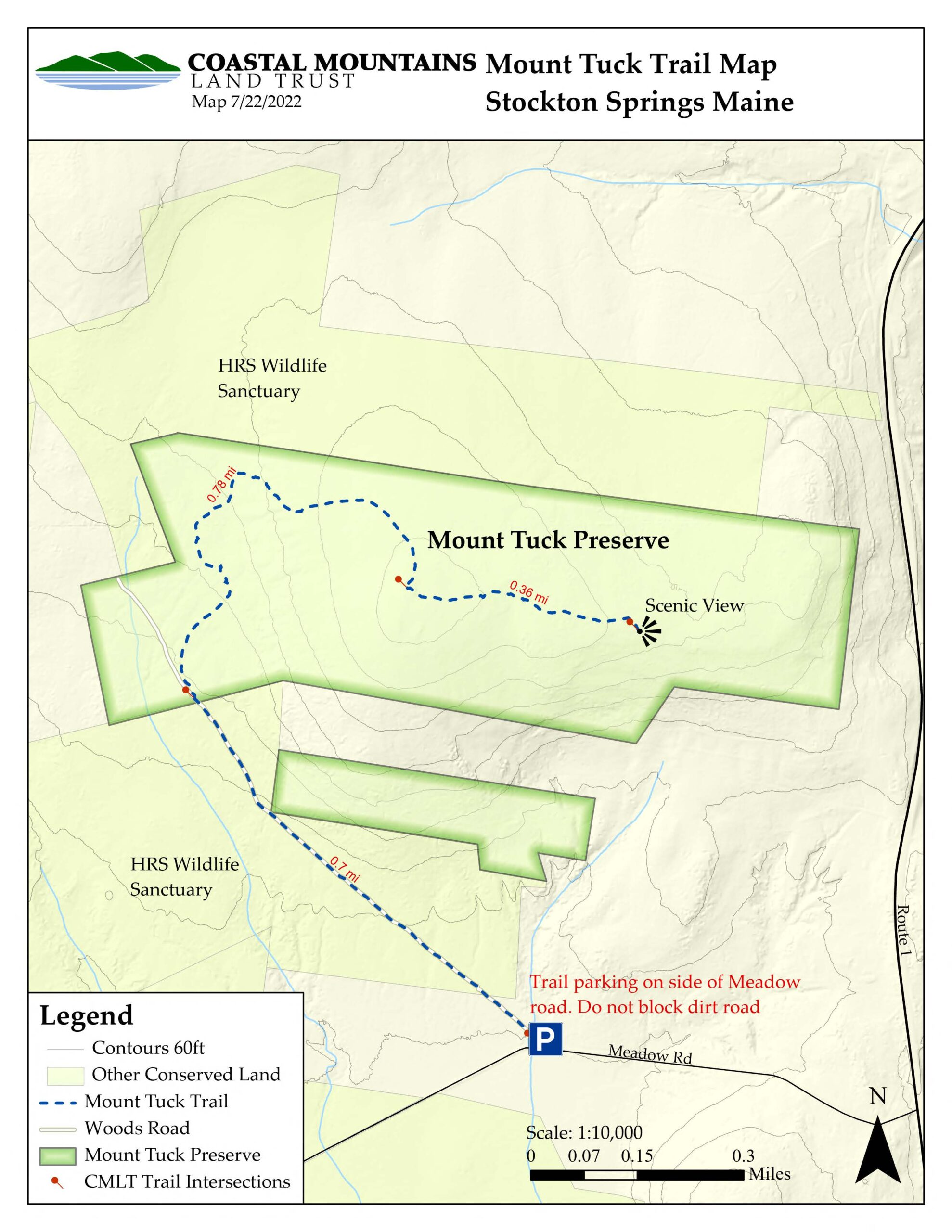 ---